Whether you are planning a large wedding or an intimate party, Thomas's Catering will work with you to create a catered event unlike any other. It will reflect your tastes, your desires, and your preferences. On your special day, we will manage it all so you can enjoy your guests and the event, rather than worrying about the details.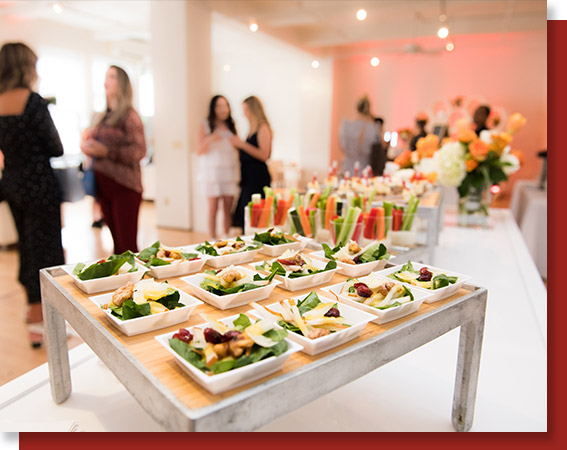 SO WHY CHOOSE THOMAS'S CATERING?
WE ARE A FULL-SERVICE CATERER AND PROVIDE THE FOLLOWING TO MAKE YOUR EVENT THAT MUCH MORE SPECIAL:
RENTAL FURNITURE
FLORAL DESIGNS
LINENS
CUSTOMIZED PROP DESIGN
EVENT MOTIFS
SITE LOCATION
TENTING
AND MORE!
Thomas's Catering is dedicated to serving you
Thomas's Catering is dedicated to serving you great food at great prices while you enjoy your private event. We are happy to provide unmatched catering services to Westland, Michigan and the surrounding areas. Whether your private event is an office meeting with breakfast catering, a formal dinner for 120 guests with a themed reception, or a lunch catering celebration, we can guarantee timeliness, affordability, quality service, and unmatched efforts in not only meeting your catering needs, but exceeding them.
We believe that flavor goes a long way, and so does presentation. This is why we take care in preparing fresh and delicious foods, partnering with some of the best, most trusted, and sought after partners in the event industry. We work hand-in-hand with a selected group of vendors so you know you are getting the best quality food at the best quality price.
You can see and taste the difference in our catering menus because they are fresh, creative, and, well, delicious! We are proud to use some of the best quality meats, cheeses, and Michigan produce. We create custom menus, specializing in gluten-free, dairy-free, vegetarian, and vegan choices. Being a catering company, we want you to know that we cater to a number of various needs, providing each and every one of our customers with superior service, extensive menus, and unforgettable events.
Our experienced catering team ensures that you have the opportunity to enjoy every aspect of your event, just as your guests will. Our staff of chefs, servers, and event planners support our catering services throughout the Westland area, helping you with menu planning and event setup and breakdown. With years of experience and exceptional, high-quality services, we're the ideal catering company for your next event. For more information about our catering, our menus, or about our credentials, please contact our team today. We look forward to hearing from you.